Over twenty years ago, I felt a burning need to help clarify a controversial topic. So I wrote How to Grade U.S. Coins, which I think helped demystify the process of grading uncirculated and proof coins.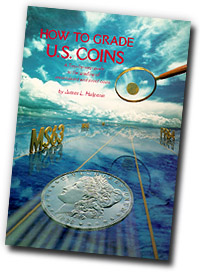 It received some acclaim within the numismatic field, although today, as a more seasoned writer, I cringe at the quality of my prose.
My friend Andrew Tobias, in an otherwise flattering column about The Truth Machine, a futurism novel I wrote in 1995, said: "Here he was, a guy who had never written anything in his life other than one slim tome on rare-coin grading. I have a copy. It's probably Biblical in its significance if you're a coin dealer, but shows no signs of literary grace whatsoever." (Then he went on to describe, rather charitably I admit, how I managed to fashion a reasonably successful second career as a novelist.)
Times have changed, but the need to educate oneself in the field of coin grading remains. I've decided to provide electronic access to this reference through the Internet...free of charge. No hate-mail from science fiction fans, English teachers, or professional editors please. It's the information that matters, right? Simply click on the hyperlink above or the book cover at right to begin reading.
All best wishes,
James Halperin,
Co-founder of Heritage Rare Coin Galleries, and author of How to Grade U.S. Coins, The Truth Machine, and The First Immortal
(Note: to purchase hard copies of these books, click on their titles.)